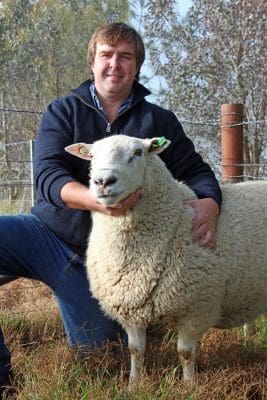 New South Wales ram breeder Tom Bull (pictured right) uses a sporting analogy when he encourages livestock producers to look beyond the colour of an animal's hide or its breed.
"If we wanted to pick the best rugby side in the world, but only selected players from one country, its potential would be limited. However, if we picked players from every rugby nation, it would truly be the best team in the world," he said.
"Producers who focus on performance rather than breed have more options and can accelerate the rate of genetic gain."
Taking steps to accelerate genetic gain
Mr Bull will throw down a challenge for beef and sheep producers to embrace new 'disruptive' tools to focus on what he thinks really counts – genetic potential – when he speaks at MLA's Livestock Breeding and Genetics Forum in Brisbane later this month.
The free, one-day forum on 21 February is part of a stakeholder engagement initiative of the National Livestock Genetics Consortium. The forum is open for all industry participants to attend to hear about the latest genetics research and development investments, seek collaboration around livestock genetics adoption and gather feedback on future investment priorities via an interactive workshop.
The NLGC is designed to deliver $400 million in industry improvements by doubling the rate of annual genetic gain in the commercial livestock industry value chain by 2022.
The need for multi-breed evaluation
Mr Bull will share his thoughts on how this can be achieved through disruptive technologies – innovations which disrupt the normal way of doing things to create new markets and value chains.
He believes a game-changer will be the wider implementation and adoption of multi-breed evaluation.
"A common basis to compare animals regardless of their breed could accelerate the genetic gains already made through BreedPlan, breed societies, LambPlan and MerinoSelect," Mr Bull said.
It's an approach he has used as a prime lamb seedstock breeder for nearly 30 years. The Bull family's terminal and maternal sire programs blend up to eight different breeds to deliver performance across consumer traits such as eating quality and marbling, and cost-of-production factors including lambing and worm resistance.
He said while most producers understand the value of using genetics hand-in-hand with good nutrition and management to increase productivity and profitability, genetic tools such as estimated breeding values can be complex to use and interpret.
"Demystifying genetics is important so producers know what traits to look for to suit their production goals," Mr Bull said.
Multi-breed evaluation is one of the NLGC's key areas for strategic investment.
Livestock Breeding and Genetics Forum
The forum is designed for all stakeholders in the livestock industry, including commercial and seedstock producers, extension and service providers, lotfeeders, processors, brand owners, supply chain participants and the scientific community.
When: 8:30am to 5pm, 21 February 2018
Where: Hall C, Royal International Convention Centre, 600 Gregory Terrace, Fortitude Valley, Brisbane (the Ekka grounds)
Registration: The event is free, but registration is essential for catering. Click here to register.
Source: MLA