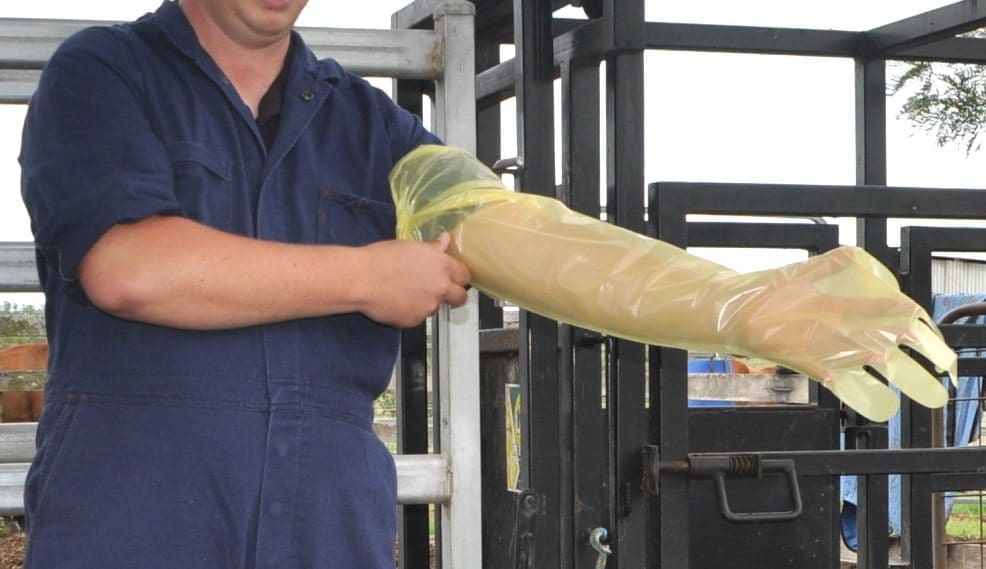 Prominent cattle vets Drs Sandi Jephcott (Qld) and David Peterson (NSW) weigh-up the pros and cons of manual preg testing and ultrasound. Is one necessarily better than the other?
RECTAL palpation has been the standard method of pregnancy testing cattle for many years. The procedure involves using a gloved hand and arm to palpate the reproductive tract of the cow through the rectal wall.
Ultrasound uses soundwaves to produce a black and white picture of the tissues being scanned using the different densities of the tissues & fluids to produce the image.
The methods of ultrasound include:
Introducing the ultrasound transducer into the rectum by hand.
Having the ultrasound transducer on a specifically designed probe so no hand is introduced.
There appears to be a perception that ultrasound is better than manual pregnancy testing. We would like to point out that there are benefits & limitations of each system.
The advantages of each system
Manual palpation is a proven, reliable system of diagnosis that is suitable for all cattle at all stages of pregnancy. An experienced operator can give results that are 100pc accurate on whether a cow is in calf or not and with early foetal aging can be accurate to within about two weeks. Foetal age can be assessed later in pregnancy, although the aging becomes less reliable.  Another advantage is it needs little equipment and no power source.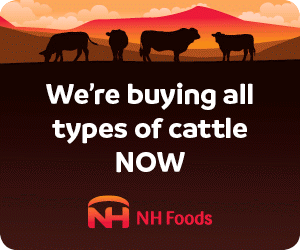 Ultrasound's big advantage is less operator fatigue, especially when testing on rotary dairies or for male veterinarians with big arms in beef cattle practice. Dr Alan Guilfoyle from Clermont in Queensland and Dr Scott Parry from Coonamble in NSW believe it has given them another 10 years of being able to pregnancy test cows and heifers, in particular.
Speed is often cited as an advantage, but speed of testing will depend on many factors, including facilities, pregnancy rate, time of pregnancy, how fat the cows are, controlled joining versus year-round joining etc. In the right conditions, ultrasound can be quicker than manual, but often it is not. In the 'ideal' animal, ultrasound requires less skill than manual palpation but the question arises: How often does the 'ideal' animal come along?
An ultrasound probe may be kinder on the operator, particularly with more heavily-built men, and may be quicker, particularly if all pregnancies are less than three months.
Ultrasound is highly specific for pregnancy – if a pregnancy can be seen, there is no doubt what it is. If the pregnancy is lying in the 'right' place, most operators will find it. There is a small advantage in earlier detection of pregnancy, with ultrasound being able to detect pregnancies down to about 30 days, depending on the machine used. For practical purposes, it is more definitive to use 35 days. Experienced operators can detect pregnancies manually down to 35 days, but to be definitive it is safer to say 42 days.
There is a 'seeing is believing' concept for farmers/producers but this may depend on the relationship between the producer and the veterinarian.
The disadvantages of each system
Operator fatigue is the biggest disadvantage of manual palpation. This is most pronounced in good facilities where the throughput is rapid, meaning the arm does not have time to recover between cattle.
Rotary dairies and large mobs of British breed cattle in well-designed yards are the extreme case of rapid throughput causing fatigue. Large mobs of Bos indicus infused cattle in good facilities can generally be manually-tested easily by a fit, experienced operator, for example Dr Ian Braithwaite, Dr Toby Wass and the author, due to a 'looser' rectum in indicus cattle.
With constant testing, the arm becomes less prone to fatigue. Similarly, the anatomy of the operator can have an effect on fatigue. Men with very large forearms or short females tend to fatigue more easily.
Injuries to the testing arm are also relatively common. These include over-extension injuries of the elbow joint and the arm being bashed against a rail. Cow's feet slipping off rotary dairies or high kick gates in beef cattle crushes can cause disastrous injuries to the arm.
Long-term there is also the risk of chronic repetitive strain type injuries. These can be minimised by good technique, but may eventually affect some operators. Acquiring and maintaining the tactile skills for manual palpation takes time and a large number of examinations.
This biggest disadvantage of ultrasound is that it is not very specific for non-pregnants. The empty uterus contains no fluid, so is often hard to visualise, especially in fat animals.
This leads to the other main disadvantage meaning only rarely can a group of cattle be pregnancy tested without having to use manual palpation to clarify the status of individual animals – too deep, too fat, small uterus hiding next to the bladder, poor probe contact due to dry faeces, air or pelvic shape are all reasons a percentage of cattle cannot be satisfactorily examined by ultrasound.
This can vary from only about 2pc of cows examined to 0pc or more in certain groups.
The variability between cows means acquiring good ultrasound skills to be able to assess animals that are not 'ideal' takes a lot of training and practice. Foetal aging also takes experience and is unreliable once the foetus is too deep to visualise.
The stage this occurs can vary, but is normally between three and five months and even the ultrasound picture from cows in the last trimester may be misinterpreted as the practitioner is not looking at a foetus, just a foetal part, such as a leg.
If the pregnancy is too deep or cannot be interpreted, manual palpation must be used to confirm the stage of pregnancy. This is the case in northern Australia where bulls are run with the cows year-round, so a mob of cows can be anywhere from one to nine months pregnant. Depending on the time of the year that pregnancy testing is carried out, this can mean up to 80pc of cows will need to be also manually pregnancy-tested when using an ultrasound probe. This can make for a slow, tiring day when there are big mobs of cows involved.
Other disadvantages of ultrasound include the cost of the equipment, cost of and access to (turn-around time) repairs, and the operator carrying gear around a busy pregnancy testing crush with large mobs of beef cattle. Heat also affects some machines, resulting in poor image quality.
Discussion
There are many operators and many opinions on the best method for pregnancy detection. Manual palpation is a method that can be used on any group of cattle at any stage of pregnancy, after six weeks pregnant. Ultrasound has the limitations outlined above, but is very useful in many situations, so long as the limitations are recognised.
The most difficult cow for an ultrasound operator is the cow in which nothing can be seen – no sign of a pregnancy and no sign of an empty uterus. Sometimes prolonged searching with the probe will detect either the pregnant or non-pregnant uterus, but often nothing can be found, even with searching. In these circumstances, no diagnosis can be made. These cows must be manually examined to determine their status. If not, mistakes will be made.
Combination of both approaches
Many operators combine both ultrasound and manual examination. They have an ultrasound probe in one hand and a long glove on the other. Examination is by ultrasound, and if necessary further examination is made by manual palpation.
For large herds where rapid throughput is required, two operators may be the preferred option, with one performing ultrasound examinations and the other checking the cows that need further examination manually. This is particularly applicable on rotary dairies but can be an unwarranted expense for big beef herds in northern Australia.
Our conclusion is that the arm still wins. The machine must have the arm as backup, but the arm does not need a machine as backup. However, the machine can make life much easier for the arm.
The National Cattle Pregnancy Diagnosis Scheme
The NCPD Scheme, or Preg Check as it is now called, has been developed over a number of years to promote excellence in the skills of pregnancy diagnosis among cattle veterinarians.
Cattle vets who have passed a practical examination conducted by an accredited examiner are then accredited to use the NCPD tags on cattle they pregnancy test for their clients.
The scheme ensures accuracy and traceability. Accredited pregnancy testers must have performed at least 2000 manual pregnancy tests and prove to the examiner they are 100pc accurate on pregnancy status, and within the agreed tolerance for foetal aging.
Examiners must have performed at least 40,000 pregnancy tests and be approved by the ACV as examiners. Ultrasound accreditation can be achieved also, with manual accreditation as a prerequisite.