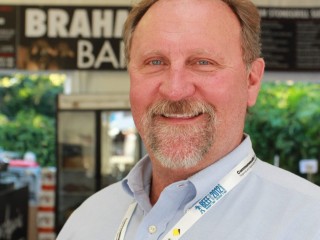 The head of the United States cattle industry says all players in the beef industry need to think in terms of the product they produce, not just the animals they raise.
National Cattlemen's Beef Association president J.D. Alexander arrived in Rockhampton yesterday afternoon slightly travel weary after a 36 hour, six-flight journey from the US.
However a touch of jet-lag didn't stop the Nebraska lot feeder from diving boots and all into a hectic program of media interviews and industry meetings as soon as he arrived on the ground at Australia's largest beef exhibition.
The NCBA is the largest and oldest cattle organisation in the United States.
Like their Australian counterparts who are facing increased Government imposed regulatory burdens, Mr Alexander said beef producers in the United States were being hindered by over regulation from the Environmental Protection Agency.
The NCBA had successfully lobbied against proposed air and dust regulations that he said would have restricted the ability of people to drive on gravel roads because of the amount of dust it generated.
"This is where you've got certain bureaucrats and people in regulatory agencies that do not have a feel for rural America, or production agriculture.
"They come up with these ideas that sound good in an office, but they have never really stepped foot out on the real world… they're going by the book instead of common sense."
He said the NCBA maintained a constant presence in Washington DC to represent the industry at Government level, adding that it was essential to continually lobby for the betterment of the industry.
"My saying is that if you're not at the table, you're on the menu."
However, he said the NCBA drew the line on negotiating when it came to dealing with the more extreme environmental and animal rights groups.
"We've got some organisations that, really to be blunt about it, want to put us out of business," he said.
"We're very aware of that. We've taken a stance that we've got to get our voice out there and our message heard, but we also will not negotiate.
"If there's out of whack groups so to speak that want to do some negotiation on how we do our production practices, that is something we won't tolerate.
"We've been at it for years, we've got third, fourth, fifth, sixth generation and more that really have learned how to do to produce the best and safest beef in the world, we're not about to let some specific organisation with basically an idea putting us out of business tell us what to do."
BSE
The NCBA has been at the forefront of managing the US industry's response to the country's fourth case of BSE, and its first in six years, after a 10 year old dairy cow was detected with an atypical case of the brain wasting disease in a Californian rendering plant.
When the US experienced its first case of BSE eight years ago, it lost its entire export market, which at that point comprised 10pc of total US beef sales.
Since then the US has gradually clawed all of its previous export markets back and more, with exports last year accounting for 12pc of total US production.
Mr Alexander said the BSE case was diagnosed as an atypical one and did not enter the food chain, and the NCBA had focused its management on science over emotion.
While there had been some minor disruptions, fallout was minimal, and the NCBA is now declaring it a non-issue.
"It is something that you need to be prepared for, and we were, you hope you don't have to discuss it or talk about it, but when it does you have got to be out there at the forefront and get the information out there. You can't hide it, you've got to give the information and give education as well."
He said a close relationship between the NCBA and the downstream supply chain had enabled the US industry to deal with the issue quickly and decisively and with one voice, which had helped to contain the problem.
"Our organisation and the majority of the producers realise that we are beef producers and not just cattle producers, and I think that is one of the main things you have got to realise, that if you are a cattle producer all you worry about is that animal, and once it leaves your place, you don't think anything about it.
"If you're in the beef business, you're raising beef from the get go, from the minute it comes into your operation until it leaves, you're thinking beef and then beyond because you want to provide the best, safest beef that you can.
"And it's a great source of protein, the world population the way it is today, we're going to have to be more efficient, more productive.
"We want to make sure that beef is on the plate for that protein around the world."
Mr Alexander said that with five major players in the US beef packing and processing industry, the production side of the industry knew the downstream supply chain participants well and wanted to work together with them.
"We want to work together with them, because it is, we're in the beef business, and understand the industry."
US eyes long-term export focus
The US beef herd is currently at a 50 year low, which was driving strong demand for cattle and hence good returns for US cow-calf and rancher segments.
Mr Alexander said he believed the future of the beef industry for the United States lies in the export market.
"Our domestic consumption has slowly been going down on a per capita basis.
"And we're being more productive. Fewer and fewer people are taking fewer and fewer animals, but producing more and more beef.
"So I think that our future really is in the export markets, because we are being a good producer, the safe product, our domestic market consumption is lowering, but we've got a huge world population growing out there with an increasing middle class, and when you have a middle class increase with more disposable income for food, one of the first things they want is a better source of protein.
"I think our major goal is to make sure that protein, when and if they want it, is beef on their plate."
Asked if the US industry was capable of supplying the export market with its herd at historic lows, Mr Alexander said the lower numbers could prevent a short-term supply challenge.
"Right now there is no doubt that it's a little tough, because we're at the lowest inventory in 50 years. Now you can't just say we're going to increase the inventory overnight.
"It's an awareness, people are certainly aware of it, the market will dictate that, and I'm confident down the road that we will be back and growing (export markets) in future."