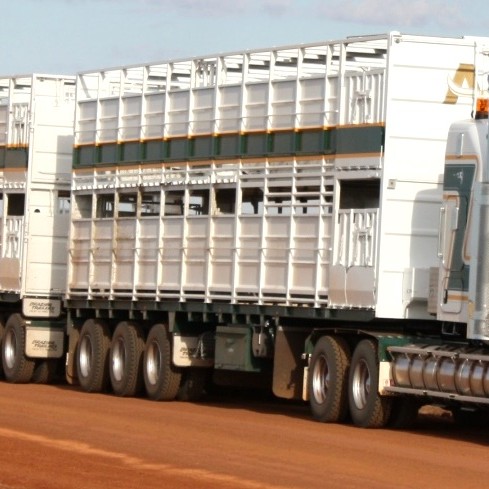 WHILE the overwhelming majority of entries on our inaugural Top 25 livestock transporters list are 'traditional' transport service providers, the world's largest beef producer, Australian Agricultural Co, maintains its own trucking fleet large enough to qualify it in position number 19.
AA Co is without question the largest user of livestock transport services in Australia, selling 250,000 cattle each year either into slaughter or live export markets, in addition to about 100,000 head being moved through the company supply chain each year.
AA Co is one of only two 'corporates' featuring on our Top 25 list, along with JBS Carriers, a division of JBS Australia (11).
While the company remains a customer of commercial transport service providers like RTA and Frasers for the bulk of its stock movements, AA Co has nine prime movers of its own based on its northern breeding and growing properties.
Mostly Kenworths plus a Mack and a Western Star, they include seven units that are operated as six-double deck roadtrains, and two with single-deck, three-trailer roadtrains.
In addition to stock transport, AA Co owns a number of body trucks with crates, two side-tipping road trains and a low loader used to transport bull dozers and other heavy earthmoving equipment from job to job. Three of the road train prime movers also have access to flatbed trailers for carting hay, station supplies and equipment when not being used for cattle work.
The company-owned livestock trucks are deployed in a number of ways:
With individual stations like Brunette Downs covering more than 12,000sq km, the trucks spend part of their working life simply ferrying weaners and other cattle around to different paddocks as they are allocated, within the property's boundaries, which can be 60-80km apart.
Other stock are ferried from company breeding to growing or backgrounding properties, or as feeder cattle to company feedlots in Central or southern Queensland.
Transporting live export cattle to export yards in Darwin, and
During quieter times of year, the trucks are also used for contract work servicing other northern beef producers, or doing sub-contracting work with RTA.
"By owning some of our own trucking infrastructure, it allows us to operate more efficiently, reducing empty-running by being able to integrate our back-loads and manage our station labour," chief operating officer Troy Setter said.
"By using our own trucks to take cattle direct from property to ship in Darwin from our two registered export yards, it allows us to sell our cattle on a Free Alongside Ship (FAS) basis. This assists our customers with their supply chain, and increases our sale prices and weights," Mr Setter said.
Contacts:
Australian Agricultural Company
Level 1, Tower A, Gasworks Plaza, 76 Skyring Terrace, Newstead QLD
Ph (07) 3368 4400 email: info@aaco.com.au Web: www.aaco.com.au