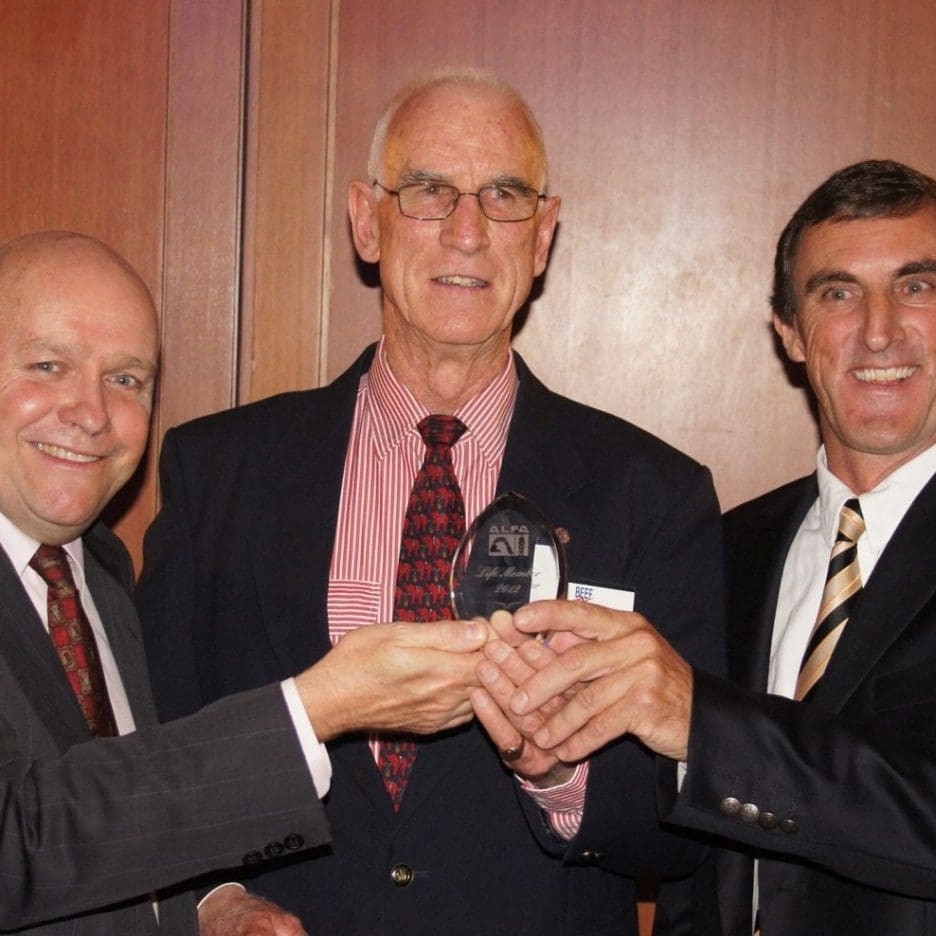 Veteran lotfeeder Rob Backus's long and distinguished career in the grainfed beef industry was recognised this week when he received Life Membership from the Australian Lot Feeders Association
Mr Backus received his award in front of a dinner audience of almost 400 during the BeefEx conference on the Gold Coast on Wednesday evening.
Delivering the Life Membership testimonial was Beef Central publisher, Jon Condon, who has followed Mr Backus's career for the past 30 years.
To put the occasion into some context, he is just the eighth ALFA Life Member to be inducted since the organisation was founded 42 years ago, back in 1970.
By any measure, Rob Backus has made a lasting and very significant impression on the lotfeeding industry, through both his commercial activities and in various industry representation roles over the past 43 years.
He broke his teeth in grainfeeding cattle under the most primitive of conditions, pioneering the establishment of forage-based cattle finishing projects in the East Kimberley region in 1969.
With much of that early development work being done on gut instinct and trial-and-error, he had his first taste of professionally-organised and managed feedlot operations when his employers, Hooker Corporation, which then owned a string of properties across Northern Australia, sent him to the US in 1972 to study American feedlots.
It was during this trip that the real possibilities in properly managed and set up intensive beef cattle production system became apparent.
After four years in the Kimberley, Mr Backus was 'headhunted' by the old Swifts company in 1973, heading back to Queensland to build and manage a new feedlot venture for the company at Redgate in the state's South Burnett region.
If Rob Backus has left a physical legacy of his time in the feedlot industry, it is in his 'fingerprints' that appear on the design and construction of some of the largest and best known feedlots across the nation. Redgate was to be the first of many such developments.
By October 1974, Redgate was in operation, growing in capacity to 5000 head and utilising one of the first steamflake feed mills used in the country.
Feedlots at the time were still regarded with considerable disdain by the broader beef industry, and Mr Backus clearly recalls being asked to leave a local Goomeri branch meeting of the old United Graziers Association, because he was not 'deemed to qualify' as a beef producer.
The onset of the Beef Slump in 1975 saw Redgate close for some years, as did many other early feedlots.
In 1978 Mr Backus took a new position with FJ Walker as livestock manager at the company's Caroona feedlot near Quirindi in NSW. Between his arrival in 1978, and 1983, Caroona went from 2000 to 20,000 head in capacity.
He negotiated some of the industry's first grainfed supply contracts with Woolworths, soon followed by contracts with Coles and Safeways in Victoria. Caroona also blazed trails in the use of computer systems for record-keeping and monitoring cattle performance, installing a room-sized IBM mainframe computer as far back as 1981.
The purchase of the FJ Walker business by Elders in 1983 coincided with another big downturn in feedlot profitability, and Mr Backus left the industry when Caroona closed to pursue other interests for several years.
In 1988 he set up a feedlot consultancy, and one of the business's first jobs was to look at effluent management problems at a small 2000 head feedlot on Whyalla, a property near Texas on the Qld/NSW border. Whyalla had recently been bought by Japanese company, Nippon Meat Packers.
Soon afterwards, Nippon appointed him general manager of the Whyalla feedlot and surrounding farming and grazing operations. A year later, Mr Backus oversaw the first of several expansion stages, taking the feedlot to 30,000 head capacity, and proposed expansion above 50,000 head. This was a major undertaking by any Australian feedlot standards, balancing the logistics of supply with demand in all facets of the feedlot operation, from cattle to commodities, labour, water, transport and other essential elements of a large, modern feedlot in a new location.
After 12 years and several expansions at Whyalla, he moved-on to a new feedlot developmental challenge in 1992 – planning, building and managing the new 20,000 head greenfield-site Myola feedlot at Croppa Creek in northern NSW. Feedlot margins were good at the time, and the pens at Myola filled as fast as they could be built. These were golden times for feeding cattle: barley could be bought for $100-$120/t delivered, and feeding and trading margins were at an all-time high with carcase prices over $3/kg.
At ALFA's 1994 BeefEx conference, the design, environmental and animal welfare features incorporated into the new Myola business were acknowledged when it was crowned National Feedlot of the Year.
In 1996 Mr Backus accepted a new position as general manager of AA Co's feedlot division, based on the relatively newly constructed 10,000 head Goonoo feedlot in Central Qld. Goonoo was seen as having a core role in delivering AA Co's broader strategies based on genetic improvement and integrated supply chains, and the site was also a key collaborator in early Beef CRC work.
In 2001, after expanding his AA Co role to include business development, he was closely involved in the company's purchase of the Aronui feedlot near Dalby, which was to later become AA Co's Wagyu feeding headquarters.
Outside his commercial career in feedlot development and management, Mr Backus has made a sustained and deeply committed contribution to industry affairs.
This continued well after his hands-on feedlot career, spanning 34 years, concluded in May 2004, following a heart transplant operation.
He joined ALFA as a member in 1988, and was elected to the ALFA Council in 1990, serving on the board for the next 12 years, including the last three as vice-president, during some turbulent times in industry affairs.
He also remained an ex-officio member of the ALFA R&D committee until June this year, 24 years after first joining the organisation.
In other capacities, Mr Backus represented the industry on the first Beef Collaborative Research Centre steering committee formed in 1991, later serving as a board director of CRC3 from 2005 until it wound-up in June this year. He also served on the CRC advisory committee from 2000-2005.
Throughout his long and fruitful career in the feedlot industry, Mr Backus has also been responsible for nurturing and mentoring a long list of younger industry stakeholders, many of whom today hold senior industry and management positions.
During his acceptance, Mr Backus said his early days of lotfeeding was 'flying by the seat of your pants' stuff, and it was probably not until the early 1990s that a more professional, science-based approach started to emerge.
He expressed amazement at the professional, procedural approach applied in modern day feedlot operations.
He looked back with fond memories at the friendships experiences he and his wife Hilary had enjoyed over 40 years of lotfeeding.
"I really appreciated the way the feedlot industry pulls together. I wouldn't have changed a day of it," he said.