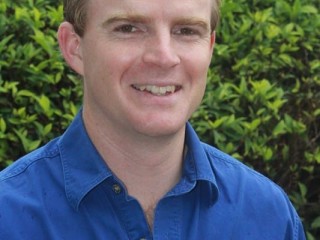 Something about Jordan Peach's first experience with agriculture changed the direction of his life forever.
As an 18 year old, Brisbane-raised Jordan travelled with a mate to Bourke in western NSW to earn some money working on a cotton farm during his university holidays.
He says it's hard to put a finger on exactly what it was that appealed to him, but after his first real taste of bush life, he admits he was instantly hooked.
When he returned to Brisbane Jordan switched from his commerce degree to an agribusiness degree at UQ Gatton, and has been immersed in agriculture ever since.
His first job after graduation was on a cattle property at Charters Towers, followed by stints at NAPCO's operations at Roma and the Wainui Feedlot at Dalby. Jordan then joined Westpac Agribusiness at Emerald for three and a half years before a yearning to return to the cattle industry saw him take an entry-level job as an administration assistant with Mort & Co.
That was four years ago and he has since well and truly earned his stripes with the well-known feedlot industry company.
In that time he has progressed to administration leading hand, quality and compliance supervisor and now Grassdale Feedlot manager.
Yesterday his status as an emerging leader in the industry was further reinforced when he emerged from a high quality field of finalists that included JBS Beef City's Cait Griffiths and Teys Australia's Wendy Smith to be named the 2012 Phibro Young Lot Feeder Achiever of the Year.
The objective of the prestigious annual award is to encourage and recognise young achievers in the industry. Nominees are required to submit an essay on an industry issue that has implications for the wider feedlot sector. Six semi-finalists are selected for interviews with the ALFA board in Sydney, prior to the final three being selected to present their essays at the annual ALFA conference.
Jordan's essay focused on his proposal to develop a web-based workplace health and safety resource for the Australian feedlot industry, which he would like to see hosted on the ALFA website.
Having been actively involved in developing WH&S programs at Mort & Co, he believes the resource would play a key industry-wide role in improving site safety and reducing management costs for individual business by pooling resources and through reducing injury and insurance costs.
He suggests that the site could include sections providing information on OH&S laws and codes of practices; records and forms to ensure sites have easy access to the forms they need to record practices properly; a forum for training coordination and key contacts for OH&S information and advice.
As a business that involves working with animals and heavy machinery, effective workplace health and safety practices was critically important for the industry, Jordan said.
"Unfortunately there have been a couple of deaths and very serious injuries on the Darling Downs in the past 18 months. We want to curb that and prevent that as much as we possibly can.
"Over the last few years I have spent a lot of time on health and safety and improved our systems.
"I think it has also made me realise how much work there is to do in the industry, and that we need to engage all levels of industry, not just the corporate end of town, it is just as important for family run or smaller companies to have good solid systems as it is for corporate sized companies.
"I would like to see the industry take a united front on this and set some expectations out there for what we should be doing as an industry and make sure we're all achieving it that level."
Jordan said he was ecstatic to have been named the Feedlot industry's young achiever of the year.
"It is the culmination of 11 years of developing within agriculture.
"I'm extremely proud to be in the feedlot industry and to receive this, I'm really happy about it."
As the winner of the 2012 Phibro Young Lot Feeder of the Year award Jordan receives a $5000 education grant.
A popular choice of past winners, many of whom are now in senior management and leadership positions within the feedlot industry, has been to use the grant to fund a study tour of the feedlot industry in the United States.