GET set for a dramatic fall in rates of female slaughter, and equally sharp rise in young cattle prices after widespread rain arrives.
That's the message farm commodity analyst Robert Herrmann, managing director of Mecardo, delivered to lotfeeders attending last week's BeefEx conference in Brisbane.
He said continued strong global beef demand would underpin cattle prices, as a more affluent world population sought to consume red meat.
"There is some downward pressure occurring," he said. "At the moment the strong economy in the US is generating a lot of demand, and US consumers are spending more money on meat. But we think the US is entering a herd reduction phase, meaning more export meat competing in Australia's markets."
"But when the rain comes, female slaughter will fall – and this time it will fall dramatically," Mr Hermann told BeefEx delegates.
"Last time we were in this situation (drought in early 2014), the Eastern Young Cattle Indicator was around 325c. This year the EYCI is going to average around 500c, and what that's going to mean is that when the percentage of female slaughter collapses after rain, the market is going to take off, and from a much higher point than last time," he said.
Mr Herrmann said he was not prepared to say it would go higher than last time (the EYCI hit around 725c/kg during August 2016), but it could 'push up into those levels.'
"Strong restocker demand will come following rain, and also the appetite for people to retain cattle and hold them back will be there – because one thing farmers know is that when numbers are short, their price risk is lower. Some build their whole marketing strategies around something like that."
Cattle on feed to reduce in face of high grain price
Mr Hermann suggested cattle numbers on feed would fall in the short term. "We're surprised they have in fact remained so high, but at the moment we expect to see numbers fall going into next year."
Grain prices in Australia remained out of kilter with the rest of the world, and there was evidence of a some 'panic' around basis price – which was not unusual, given that the industry was a long way from its last harvest, and the next harvest was looking dodgy.
"People who are trying to accumulate grain are getting really squeezed. Growers holding grain are getting very gung ho, but a harvest can change that. Get a bit of grain in the silo, and the panic caused by drought basis tends to ease a little," he said.
Import prospect
Mr Herrmann pointed back to one previous episode in the 1990s when feedgrain had been imported to Australia during times of extreme shortage.
"Most of the time when people talk about import parity, it's about bringing that basis price back. Generally what happens when that threat (of importation) is made, local prices adjust back to a point which makes it 'just a little' too difficult to import the grain," he said.
"But the difficulty now is that there does not appear to be an appetite within government to encourage something like that to happen. The government is saying there's a lot of wheat in WA, and those farmers need a good cheque, while growers on the east coast don't want the price coming down either. But don't be surprised if its WA grain, the threat of import shipments, or a summer sorghum crop which change that basis price, bringing it back a little."
Mr Herrmann said WA grain was going to be a 'really interesting story' this year. At the moment, the best place for WA growers to sell wheat was into east coast ports like Brisbane, Newcastle or Geelong, as feedgrain.
"People say the best thing to fix high prices is high prices. That's true, but sometimes it takes a while. But the other point is that circumstances driving markets change all the time. That will happen again," he said.
Beef prices remain high
While Australian beef prices had remained quite elevated in comparison with US beef prices during the period of lower Australian vs US production ratios and tighter supply during 2016 and 2017, prices in both countries were likely to align more closely as Australian production recovers, and US declines slightly.
Mr Herrmann said the US beef herd was starting to be impacted by some of the challenges Australia is currently facing.
"It's quite dry in places in the US, and we know that means the US female slaughter is going to start to rise. We can see that happening now, and that traditionally leads into a US herd decline. The pattern of herd increase and decline has been very consistent."
Rising cow kill in the US represented a slight headwind for Australia, he said, because as the US herd started to liquidate and more females are slaughtered, more beef would come onto the US market.
Australian female slaughter
Mr Herrmann also highlighted the rate of female slaughter in Australia as one of the 'key metrics' to watch.
As this graph shows, just as in 2014-15 (blue line), the percentage of females being slaughtered in 2018 (orange line) is well above the five year average.
"There's a whole lot of spinoffs that come from this," he said. "At the moment there's excess supply coming into processors and short-term feedlots, because females are being disposed of. But the lessons we have learned from previous droughts is that when that ends, female supply absolutely dries up."
Mr Herrmann said during this year's drought, processor margins (based on Mecardo's processor margin modelling) had ramped up to levels way beyond the normal band (see graph below).
"This is purely being driven by excess females coming to market," he said. "I guess that's a good thing, because consumer demand is there to handle it, but when the drought breaks, we are going to see that reverse dramatically."
"We'll go from a situation now where a farmer is selling 50-60pc of his heifers and an extra age group of his cows, to the situation after the drought where he will be keeping his older cows and 80-90 percent of his heifers, to rebuild. The corresponding factor at the time will be other producers looking to go out and buy replacement females, and restock."
"We're going to see a real squeeze in supply come to processors, and we think it will especially be felt in that shortfed (domestic) feedlot segment, where heifers are placed. That opportunity will absolutely disappear," Mr Herrmann said.
Feedlot margins
Mr Herrmann also presented this graph plotting feedlot margins, showing margins were under pressure due to high grain price.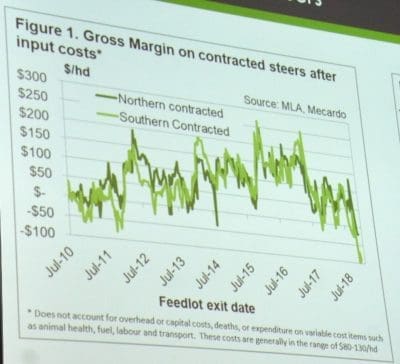 "What's interesting, though, is that the numbers on feed have remained really strong. But the tight margin and high grain prices are likely to produce some reduction in cattle numbers on feed. The  current 1.1 million head on feed and 85pc utilisation rate is clearly at the high end of recent feedlot activity, and indicates there is something more happening than the basis that we can use in modelling feedlots," he said.
Mr Herrmann said when rain came, restocker demand would push up, putting pressure on competing customers for young (EYCI eligible) cattle. He said the EYCI northern lotfeeder spread was currently 'way out of whack,' being well above its normal range (see graph).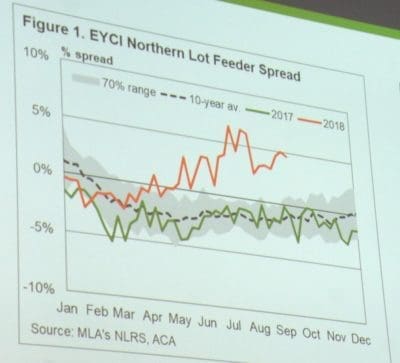 "The only explanation we can find for that is the stronger demand for grainfed cattle, as a result of poor grassfed supply, with supermarkets and others sourcing more of their supply out of feedlots. In the south, the trend is evident also, but not as severe as in the north."
"It's expected that that will pull back when rain arrives, because the EYCI will rise as a result of increased demand from restockers, which will pull these spreads back into line."
Price drivers
Despite the current drought, Australian heavy steer prices still looked to be slightly high in comparison with US prices, but were not 'way out of whack,' Mr Herrmann said.
In terms of grain prices, the greatest impact of the drought was represented by record high grain Australian grain prices, while the rest of the world sat at relatively comfortable price levels.
"Australian wheat and barley prices have dramatically rallied, and the large domestic feedgrain demand on the east coast is the big factor. For the rest of the world, there's comfortable levels of stock. Australia's stocks-to-use ratio is about 18pc, while the rest of the world sits at 30pc. That means there is no real urgency, or pressure, on buyers in the rest of the world, whereas in Australia, we're the ones feeling that pressure."
"The grain price basis at the moment (the premium of Australia's grain price over the rest of the world) is at record levels."
Mr Herrmann presented figures based on current cattle numbers on feed (around one million), consuming around 13,500 tonnes of grain per day, representing a requirement for around 1.2 million tonnes of grain per quarter. At a 75pc inclusion rate in a typical ration, that translated into annual domestic beef feedlot consumption of some 3.6 million tonnes of feedgrain per year.
"This year, due to drought, half the national cereal crop is going to be produced in Western Australia. It's the first time this has happened for about 25 years, and it means that eastern states lotfeeders, where all the demand is, are going to struggle to fill their requirements," he said.
At this time of the year, everybody who is growing a crop started to talk the crop down, he said.
"People start talking about frost damage or cutting the crop for hay, but the reality is it's never quite that bad. But on the east coast this year, the old saying that 'a small crop gets smaller' is certainly the case."