A RANGE of grainfed research and development projects will be on show at the Australian Lot Feeders Association's biennial BeefEx conference event next week.
Projects including automation technology R&D, the Cattle Heat Load Toolbox and the antimicrobial stewardship framework for Australian feedlots will be addressed by a range of guest speakers during the conference, starting on Monday afternoon.
Enabled by grainfed levy investment, automation and robotics solutions company Manabotix has developed a prototype automatic bunk calling system for feedlots, and managing directoDr Kev Sullivan, Bell Veterinary Servicesr, Dr Stuart McCarthy will be among the presenters at BeefEx next month.
Brisbane-based Katestone provides the Cattle Heat Load Toolbox  service to Australian feedlots, and the company's managing director, Christine Killip, will be at BeefEx to discuss the advancements in weather intelligence that are helping to boost the industry's understanding of how current conditions influence future weather events.
Following the release of the Antimicrobial Stewardship Guidelines for the Australian Cattle Feedlot Industry earlier this year, industry veterinarian Dr Kev Sullivan, from Bell Veterinary Services, will provide an update of the framework and why the Australian lotfeeding sector would be wise to take notice of the guidelines.
Australian Rural Leadership Foundation (ARLF) scholarships
Recent recipients of Australian Rural Leadership Foundation scholarships jointly sponsored by MLA and ALFA will feature in a BeefEx panel session facilitated by ARLF chief executive, Matt Linnegar.
Panellists will include Will McCrohon, manager of the JBS Riverina Beef Feedlot; Emily Pollock from Elynx; and Andrew Slack, from Smithfield Cattle Co's Sapphire Feedlot. The three will discuss their leadership journey, and what they have gained both personally and professionally from the ARLF leadership programs.
Global trends in the beef industry
Lot feeders and industry stakeholders attending BeefEx can also hear about the latest global trends influencing consumer buying decisions and the risks and opportunities for the beef industry.
MLA's chief marketing and communications officer, Lisa Sharp, will discuss the trends uncovered by MLA-commissioned research at the BeefEx event.
Bunk scanner proves its accuracy
Extensive in-feedlot testing of a prototype bunk scanner has demonstrated that it's more accurate in predicting feed remaining in bunks than human callers, offering potential productivity and profitability benefits to the feedlot industry.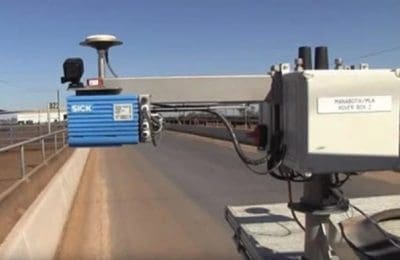 After successful development of the vehicle-mounted prototype bunk scanner (pictured) by Australian automation and robotics solutions company, Manabotix, earlier this year, a series of observation trials were funded by ALFA and MLA. Manabotix tested the prototype at Mort & Co Grassdale, Mort & Co Pinegrove and Teys Condamine feedlots.
One hundred observations were taken at each yard, with feed quantities in bunks representing the full spectrum. Success of correctly applying bunk scores was higher across all three sites, with very high resolution at both high and low quantities in the bunk.
At all three sites, the bunk scanner was more precise and accurate than human bunk callers.
Teys Condamine feedlot general manager, Phil Lambert, said the bunk scanner offered a range of potential benefits to the industry.
"With current ration prices as high as they are, we need full utilisation of all feed in the bunk to ensure allocation is as accurate as possible, not only for cattle performance but to prevent wastage," he said.
"We've got an experienced group of feed-callers, however, once there was over 100kg of feed remaining in bunks in each pen, the difference in accuracy between the bunk scanner and the callers became evident. Inaccuracies in the estimations of human callers was particularly noticeable over the 300kg mark.
"With margins being so tight, we need to make sure every mouthful counts. So many other variables in the feeding process have been addressed and removed, so if we can remove human error from another area, it would certainly be a benefit," Mr Lambert said.
Teys Condamine has a range of different bunk shapes and sizes in the yard, however the bunk scanner produced the same level of accuracy, regardless of the bunk.
Mr Lambert said that even if a feedlot didn't use the bunk scanner full-time, it would be a great training tool for getting new feed callers started and calibrating and re-aligning their skills.
Mort & Co Pinegrove feedlot manager Jeff Jurd said the accuracy of the bunk scanner during testing at the feedlot demonstrated it would enable feedlots to make better decisions.
"Every day, the bunks get called at 6am and then again at 8.30am. The information collected in that timeframe about the amount of feed left in bunks is crucial to determining if we increase feed that day to each pen, or decrease it," he said.
"If we over-estimate, we might reduce the feed unnecessarily, so having greater accuracy is a huge benefit. Also, as a vehicle mounted unit, it would allow someone who isn't trained in bunk calling to collect the data and then for someone else interpret it.
"Our site also has three different bunk designs, and the scanner was successfully tested across all of them," he said.
The vehicle-mounted prototype's primary sensing element is based on light detection and ranging (LIDAR) technology.
"We have on-board positioning solutions so we know very accurately where the vehicle is in a world coordinate system, and we also have an on-board attitude solution so we can account for any vehicle roll and rock and any other dynamic events to improve the quality of the signal," Manabotix managing director Dr Stuart McCarthy said.
"The scanner has an on-board computer which takes in all of that information. It predicts how much feed is remaining and then it publishes the result at the end of measuring each bunk. It can work in day and night conditions.
"We believe the real value to be in how much more accurate the scanner is over humans," he said.
Humans at all sites tended to have what is known as 'linear bias'. In simple terms, this means they increasingly mis-estimate the quantity of feed remaining in bunk as the actual quantity increases. The bunk scanner has no linear bias and performs with equal resolution at low and high quantities of feed remaining in the bunk.
"The commercial realities of this remain to be researched, but shows there is room for improvement in how we manage bunks in feedlots," he said.
The bunk scanner will be commercially launched at BeefEx in Brisbane next week.
ALFA's BeefEx 2018 conference will be held from 8–10 October at the RNA Convention Centre, Brisbane Showgrounds, Queensland. Click here to access details.