Tail-hair tests could soon be used on Australian cattle properties to objectively measure and assess the welfare of cattle, under a new national research consortium launched at Beef 2018 on Thursday.
The tests are one of a suite of biomarkers the new national research centre will explore to provide objective assessments of animal welfare to support the Australian beef industry's sustainability claims.
The National Animal Welfare Biomarker Consortium (a working title that may change) has been funded by the University of Queensland and Queensland Government. It is a collaboration between the Brisbane-based university and the University of Newcastle and aims to work with other research providers like the CSIRO and other universities in future.
The national consortium's objective is to bring together researchers, governments and industry to conduct research to develop practical assessments of animal welfare to demonstrate the state of animal welfare of animals at herd and industry level, Queensland Alliance for Agriculture & Food Innovation animal welfare professor Dr Allan Tilbrook told a Beef 2018 forum on Thursday.
Dr Tilbrook said the Australian Framework for Sustainable Beef recognised the importance of industry being able to provide honest feedback on its progress toward sustainability, and to do that it needed objective measures.
"What we're about is providing objective measures of animal welfare so we can use those measures to address issues if there are any, and to actually provide honest feedback about the state of animal welfare within the industry," he said.
Research from a 2015 study commissioned by MLA identified a potential $3.9 billion downside risk for Australia's beef industry if it was not able to show and demonstrate a commitment to improving animal welfare.
"There is a quite often a perception in the community that things aren't right or there is just complete ignorance in the community about what really is happening," Dr Tilbrook said.
"The bottom line is we have to have the evidence to know what is happening, and fix it up if it's a problem, and communicate that.
"We need to get some science to underpin animal welfare, because at the moment we don't have a good way of doing it."
Dr Tilbrook said the consortium's objective is to provide a suite of biomarker measures that can be practically taken from animals in the field at low cost in both real time and over time to provide an objective assessment of the welfare of cattle.
"We can take a tail hair of cattle and measure various things in the tail hair that tell us about whether or not the animal has been stressed, for example," he said.
"We can measure at the moment little patches on the animal and measure heart rate variability and we can measure a whole range of different physiological variables.
"At the moment we are taking blood samples and can measure particular things that can tell us how the brain is working.
"And ultimately we want to get to the point where we can use very sophisticated lasers to do that, because you can't take blood samples out in the field."
An analogy was a farmer sending a soil sample off and then using the results to determine what his soil needs.
"So you will be able to send your tail hair off and this might need a bit of a twist here or a bit of a twist there.
"We also think we can have it so we have various things hooked up, GPS with the satellites, and then beam information back to some central location.
"If there is an issue we can contact the farmer or station, that is the idea."
Dr Tilbrook said Meat & Livestock Australia was providing support in principle to the consortium and was providing research for some specific animal welfare projects. Discussions were also underway with MLA for funding to expand and accelerate the consortium's work.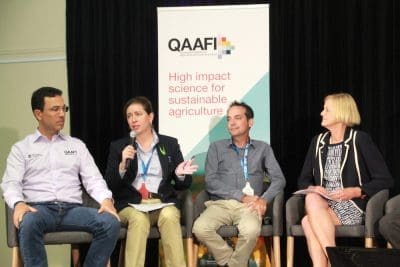 Super Butcher managing director and Australian Beef Sustainability Steering Group member Susan McDonald told the forum the consortium was the perfect marriage of the "incredible science is Australia well known for" and the practical outcomes needed to deliver sustainable beef production.
She said the first element of sustainability had to be profitability: "If this does not equate into people making more money then it is very difficult to see the benefits and for people to adopt the science."
Being able to demonstrate animal welfare was also crucial for maintaining market access in future.
"Primarily we are an exporting country but it is Australians who give us access to that market," she said.
"It is Australian voters and Australian politicians who determine what we get to do on farm."
She said the Australian Beef Sustainability Framework took decision-making and measurements out of the hands of those "who would really love to see us not producing beef at all", and put it back in the hands of industry.
"This gets us in a leadership position, we determine the KPIs (Key Performance Indicators) or measurements and we get out in front of this."