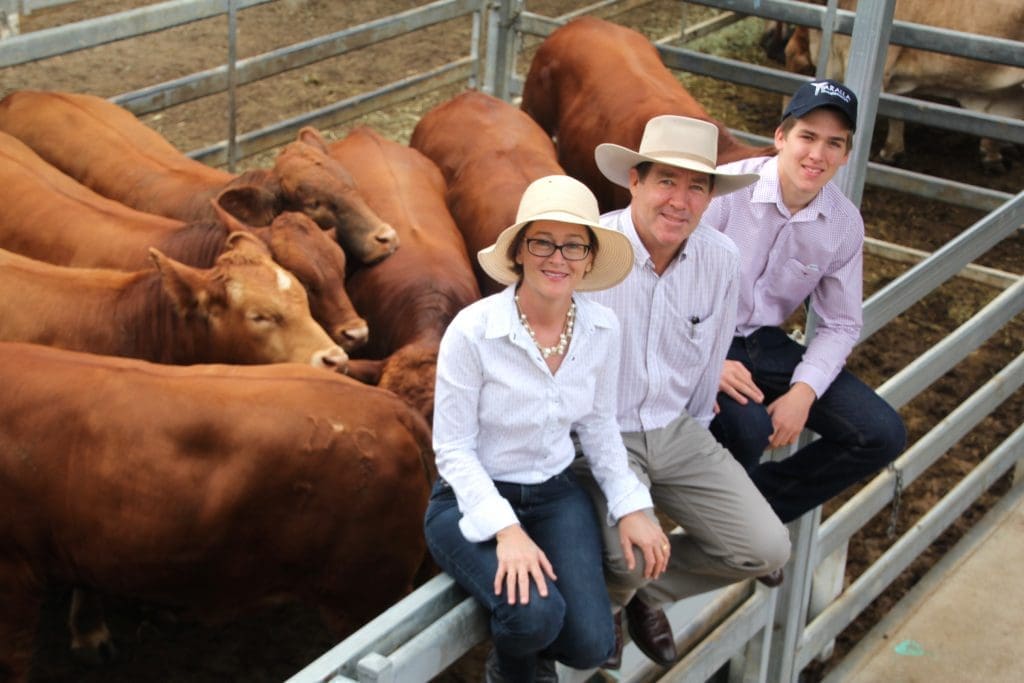 Kerry, Ken and Tom McKenzie with their grand champion pen of Droughtmaster/Simmental cross heifers at Gracemere this morning.
IN SPORT they talk of 'Jordan-esque' or 'Bradman-esque' achievements to describe remarkable careers of accomplishment, when extended periods of dominance start to draw inevitable comparisons with the all-time greats such as Michel Jordan in basketball or Sir Donald Bradman in cricket.
Central Highlands Droughtmaster breeders Ken and Kerry McKenzie would be far too humble to go along with this idea but a compelling case could now be made for the superlative "McKenzie-esque" to become a permanent fixture of Australian cattle industry lexicon.
The McKenzies, who breed their own Droughtmaster bulls and specialise in producing feeder steers and heifers at their Yaralla property at Blackwater in Central Queensland, have now won the Beef Australia grand championship a remarkable five times in the past six events.
One grand championship is something many top producers strive for but never achieve.
To achieve the feat five times, each time under different judging panels, is a feat that should draw inevitable comparisons with the all time greats.
There is no bigger commercial cattle competition in Australia, Beef Central understands, than the commercial cattle championships held at the Gracemere saleyards as part of the Beef Australia expos every three years.
This year a record 2000 prime grassfed and grainfed steers and heifers were entered.
Judges Peter Healy from John Dee and Duane Woodham from Stanbroke Pastoral worked all day yesterday to try to separate the massive field and find winners and place-getters in categories.
Mr Woodham said that despite the massive number of cattle yarded, you could "throw a blanket across the yarding" in terms of the consistently high quality throughout.
He said many cattle that didn't win a place in their class could easily have finished in the top five, such was the quality spread throughout, and he acknowledged there will be some very disappointed exhibitors this morning.
"This is one of those things, it is a subjective competition, that you try to judge objectively," he said.
"There will be some disappointed people but the cattle are a credit to them, and they should sell well (all cattle entered will be sold in a commercial sale is underway at Gracemere today)
"They will all meet the market specifications and should get a good result."
Consistency the aim
Mr Woodham said the key message for producers was to try to enter cattle that were as even as possible.
"There are pens here today that could have made it into places but there might have been one or two beasts that let the pen down," he explained.
"Obviously people have different numbers of cattle they run, but the more consistent they can get their cattle, the more evenness of type the better.
"As a judge you are looking for muscle score, even fat distribution over the body, growth for age, balance in your cattle and visual eye appeal.
"If they can get their cattle as even as possible they will be all the more better for it."
What was also notable about the results this year was the fact that the honours in all classes were quite evenly spread across all breeds, with bos Indicus, bos Taurus, and European influenced genetics all featuring in the major accolades.
Middle of the road bulls, fertility key messages
The grand champion pen exhibited by Ken and Kerry McKenzie was a pen of Droughtmaster Simmental cross heifers. This is yet to be confirmed but it may be the first time heifers have won the Beef Australia commercial grand championship.
The McKenzies usually enter pure Droughtmasters but took a different tack this year.
For several years they have been joining Simmental bulls as terminal sires over a small number – 260-270 or so – aged Droughtmaster cows, and selling the progeny as feeder cattle straight off mum.
The cross has performed well so Ken and Kerry decided to enter some of the Droughtmaster Simmental cross heifers this year. The result speaks for itself. Five grand championships in six speaks volumes about not only the McKenzie's prowess as cattle producers but the power and quality of their genetics.
So what advice does Ken have for other producers wondering how to succeed in a major competition like this?
"When you select bulls, just try for good middle of the road bulls," he said.
"But you still have to have your fertility right.
"It is fine to win these competitions, but you have got to have plenty of them, so you have got to get cows to calve.
"That has been the stronghold for us, good Droughtmaster cows, they have been strong for us for a long, long time."
MAJOR COMMERCIAL CATTLE CHAMPIONSHIP RESULTS:
RESULTS GRAND CHAMPION PEN
KD & KL McKenzie, Droughtmaster/Simmental Cross, 561.5kg, Dentition 10/M, HGP
CHAMPION MALE GRAINFED PEN
Banana Station, Red Brahman, 720kg, dentition 10/2Y, HGP
CHAMPION MALE CROP/PASTUREFED PEN
Santahat Santa Gertrudis Stud, Santa Gertrudis, 747.5kg, dentition 5/2T; 5/4T, non-HGP
CHAMPION FEMALE CROP/PASTURED FED PEN
Chris and Judy Nobbs, Charbray, 643kg, dentition 1/M; 9/2T, non HGP