MORE than 2000 Queensland grazing businesses managing more than 28 million hectares of land across the state, have taken advantage of an industry-led initiative to help improve the economic, environmental and social sustainability of their grazing enterprise.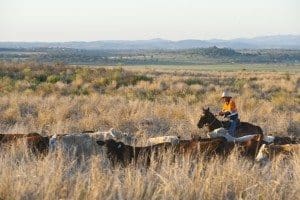 Department of Agriculture and Fisheries beef extension officer Matt Brown said the Grazing Best Management Practices (Grazing BMP) program was a free and voluntary online tool that had been delivered in the Fitzroy region since 2009.
The program – funded by the Queensland Government's Department of Environment and Science – was a partnership between DAF, Fitzroy Basin Association (FBA) and AgForce that enables producers to self-assess their management practices and identify opportunities to improve business performance, Mr Brown said.
"In the Fitzroy region, Grazing BMP is delivered in a two day accelerated workshop format with staff from DAF and the FBA presenting best practice information and encouraging group discussion.
"Graziers ideally re-assess their modules every two years to refresh their action plans, and maintain their knowledge of industry standards."
Mr Brown said DAF's involvement in the Grazing BMP program would be showcased as part of the Queensland Government's presence at Beef Australia 2018.
Front-and-centre will be two Grazing BMP Accredited businesses that will be featured as part of the popular Property Tour program.
Barfield Station at Banana, which will soon be one of only four businesses in Queensland who have entered their second period of accreditation, will highlight property infrastructure and pasture improvements, involvement in the Northern Genomic Project and ongoing work with DAF.
Mt Elsa at Glenroy, which has been Grazing BMP Accredited since 2016, will display their Breedplan herd of Droughtmaster cattle and unique pasture production systems.
Key updates on research into sustainable beef production in Queensland will be part of the Beef Australia 2018 People and Business seminar program in the James Lawrence Pavilion from midday until 1pm on Friday 11 May.
DAF staff who deliver the Grazing BMP program will be present at several other events including the CQUniversity Beef Australia Industry Symposium, Handshakes Business Matching Program, Landmark Stud Cattle Competition and the NH Foods Next Generation Program.
More information about the Grazing BMP program and other ways the Department of Agriculture and Fisheries supports Queensland's $5.4 billion beef industry will be showcased at the Beef Australia 2018 event in Rockhampton from Sunday 6 May to Saturday 12 May 2018.