WHEN it comes to lending money for beef operations, financial institutions agree there is confidence and a strong appetite for long-term business across the sector.
Rabobank's regional manager for Southern Queensland and Northern NSW, Brad James says there has been no shift in sentiment when it comes to the beef sector.
"As a lender, we have a very strong appetite for all of the major sectors across agriculture. But in particular, we have confidence in the beef industry and the producers in it, however we do manage various occurrences within that sector carefully, with the strong knowledge base we have."
ANZ director corporate agribusiness Ben Barrett said the beef industry continued to be a focus for the bank.
"ANZ has a strong appetite to lend throughout the commodity price cycles. Yes, cattle prices are high and yes, property prices have responded as a result, but the bank's attitude towards lending in beef remains the same.
"We don't chop and change. Our policies weather the property and commodity cycles irrespective of the current high beef prices, which are presently improving the financial performance for many beef producers across the country."
Mr Barrett said as a result, ANZ adopts a medium to long view for beef industry players.
Mood for expansion, development
"Currently we are seeing clients expand with decent capital expenditure that they have possibly deferred due to poor seasonal conditions and earlier poor commodity prices. Now they are willing to invest – by either buying new property or further developing their own land asset for greater productivity and efficiency, which is really positive."
However Mr Barrett warned industry participants to be cautious.
"Clients must ensure when servicing current or prospective borrowings that costs are not dependent on the current beef prices being maintained indefinitely, and therefore sensitise cash flows accordingly."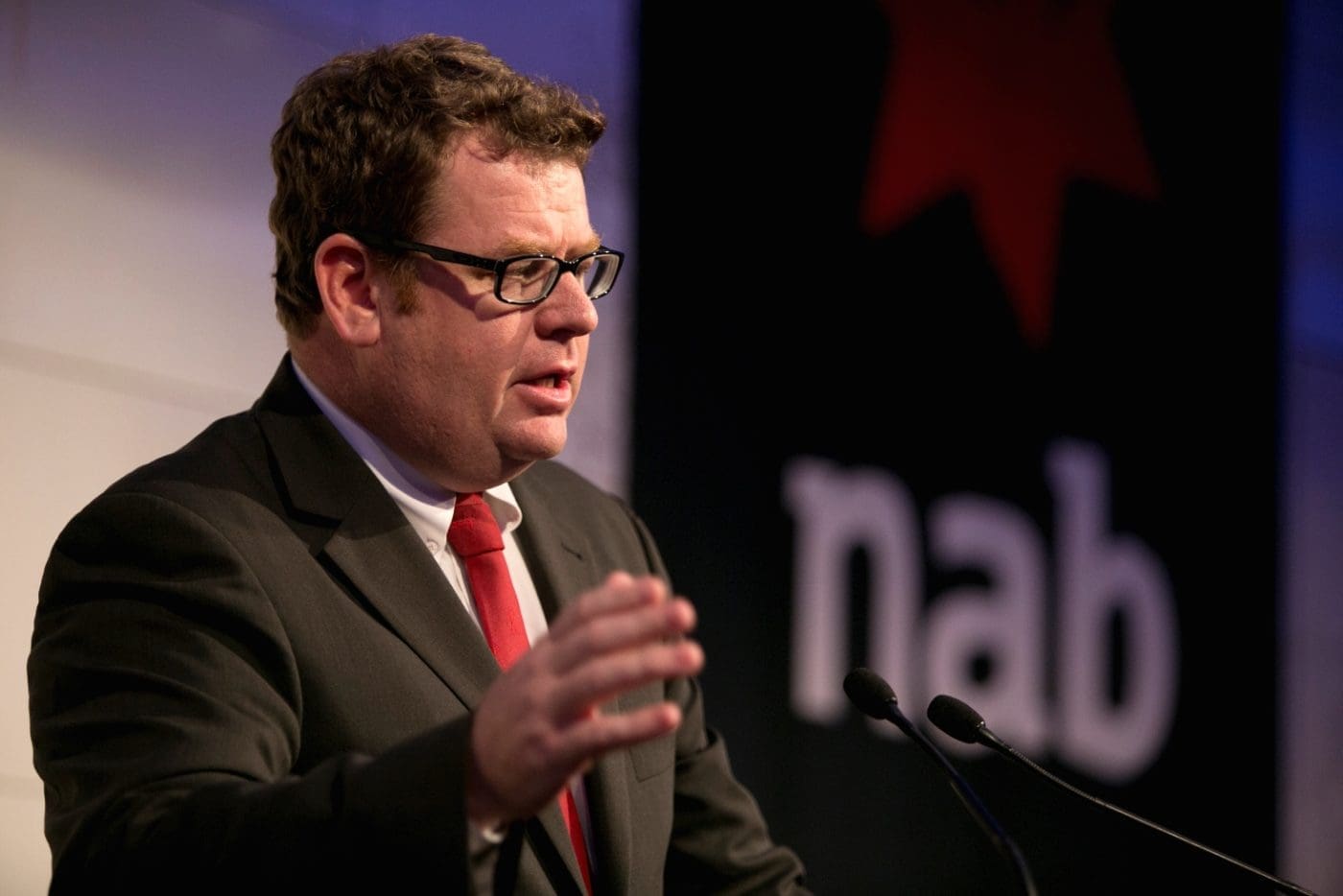 NAB's Head of Agribusiness Khan Horne, pictured left, said beef was well and truly one of the bank's preferred target sub-sector markets.
"Most people approach us with a budget or a price which they think is sustainable and achievable over the next 12 months. Our modelling is built on long-term averages that factor in a range of elements including per kilograms sold, weaning rates, the whole lot."
Mr Horne said NAB had a good consistent lending appetite and was definitely "open for business" in beef.
"We have 90,000 customers in Australian agriculture and the vast majority are making money. That's evidenced by Farm Management Deposits in Australian agriculture, which have grown to more than $1 billion over the past 12 months."
Within that whole-of-agriculture group, Mr Horne said the Federal Government's Farm Management Deposit Scheme statistics for the beef sector had been steadily rising.
January 2017 – 7267 producers qualified for FMDs worth $636.5m
January 2016 – 5929 producers qualified for FMDs worth $465.25m
January 2015 – 5304 producers qualified for FMDs worth $396.7m
He said the welcome news was the number of NAB's producer clients that were making good profits consistently, over a number of seasons.
"We are seeing serious money put aside in farm management deposits for future opportunities," he said.
"Some are preserving their equity or reducing debt, others have expansion ideas and are buying new properties, particularly for inter-generational succession. If a neighbouring block comes up that would improve their enterprise, clients can call on those farm management deposits, after having them for 12 months, and that can be part of their cash into expansion."
Another bank with a positive attitude towards the beef sector is Westpac. General Manager Agribusiness Steve Hannan has seen continued good growth and is looking forward to seeing new investment in the beef business.
"Westpac has more than 30,000 farmers as lending clients nationally. Our book is about 20 percent skewed towards the beef industry – both northern beef and southern beef. We have quite a diversified book across each state. It is one of our strengths, and we will continue to support the beef sector."
Mr Hannan said Westpac had recently employed specialist credit officers to support its bankers and customers.
"The dedicated agribusiness credit vertical is a new initiative covering the whole of Australia's east coast. We're hoping to roll it out nationally this year. It is in response to a very optimistic view of where agribusiness and agriculture is headed. We want to make sure we are setting ourselves up for success in the future."
Mr Hannan said when he was appointed three years ago, his role was to set up Westpac's ag bank for the long-term.
"During that time, we have been building a strong team of agribusiness specialists who are connected to the land. In fact, a high percentage of the team comes from the land and are farmers themselves in their own right. So, from Westpac's perspective, we are very supportive of the beef industry and will continue to lend."
Interest rates determined by many variables
When it came to disclosing the current typical lending interest rate, most bankers chose not to offer a comment.
NAB's Khan Horne explained that the market was not like 'home lending.'
"The average loan interest rate to a beef producer or a beef industry participant must be assessed on a case-by-case basis.
"A myriad of factors are evaluated such as management, character, cash flow, LVR (lend to value ratio), the property's physical attributes, livestock and of course whether it is a one-year loan or a five-year loan, and whether the client had a 100 year relationship with NAB or is it someone we don't know."
Westpac's Steve Hannan said the interest rate for business lending was at an all-time low.
"That has been a constant now for a number of years. The Westpac economics team believes the rate will remain fairly constant over the next 12 months."
Meantime, the ANZ's Ben Barrett said there was no one single answer on interest rates.
"The interest rates applicable to a cattle industry borrower are a function of the strength of the borrower, both in terms of debt servicing capacity and security. This can vary greatly between clients."
The only banker who gave a figure was Brad James from Rabobank, who stressed that interest rates vary on the strength of proposals and the presence of competition.
"The typical lending interest rate being offered by banks to cattle industry lenders is four to four and half percent. They have been at similar levels over recent years. They were slightly higher before the official cash rate reductions," he said.
Next week: We continue our scrutiny of the lending landscape, with a look at the banks' lending risk policies and the ways in which beef businesses are assessed.