THE 2016 bull selling season produced a number of new breed record prices for bulls and registered females sold at auction, and the early stages of 2017 autumn sales have picked up where last year left off.
In order to keep abreast of these breed milestones, Beef Central has prepared this comprehensive list of breed record prices for bulls and females as a handy reader reference tool.
What's evident in the list is that while some breeds have recorded new highs in the past year or two, other breeds' record prices were set 30 or more years ago.
Buyer confidence instilled by strong commercial cattle markets is clearly a factor in recent bull price record-setting. In addition to those records set last year as cattle prices lifted dramatically, there is also a record-setting 'cluster' around the 2005-2007 period, when cattle prices were also rising sharply. Other breeds registered their current standing records as far back as 1989.
While most attention focusses on bull values, we've also compiled a separate list for registered females sold at auction. It's apparent, and somewhat logical, that quite a number of the female breed records were set at herd dispersals, with studmasters evidently reluctant to part with their truly elite breeding females unless dispersing their herds.
To submit amendments or add new entries to this list as records are re-set, please contact Beef Central via email at admin@beefcentral.com or phone 0412 331745.
The lists below are ranked according to record price. Records are based on auction results (either physical or online) only – not private treaty, where circumstances are much more difficult to verify.
Registered bull record prices at auction:
Brahman:
$300,000 for Lancefield Burton Manso sold by Lancefield Brahmans, Dululu QLD to Happy Valley Brahman Stud, Mackay QLD – Tartrus Lancefield Sale 2006, Gracemere QLD.
While this list is restricted to registered bulls, it's worth noting that $96,000 was paid at the 2016 Big Country Brahman sale in Charters Towers for a Grey Brahman herd bull,  Kenilworth 4899, bred by Kelvon Maloney, Kenilworth, Mt Coolon, and bought by Brian and Cindy Hughes, Lanes Creek, Georgetown. The price was an all-breeds Australian record, and most likely a world record for a herd bull.
Droughtmaster:
$180,000 for Glenlands Prince sold by B & V Childs, Glenlands Stud, Bouldercombe QLD to Fortus Stud, Ballogie QLD – 2012 Inaugural Glenlands on-property sale, Rockhampton QLD
Simmental:
$160,000 for Woonallee Los Angeles, sold by Tom & Lizzy Baker, Woonallee Simmentals, Millicent SA to Brett Nobbs, Nobbs Cattle Co, Duaringa, Qld – Woonallee Elite Production Sale February 2017, Furner SA.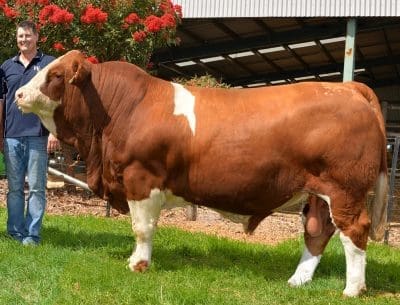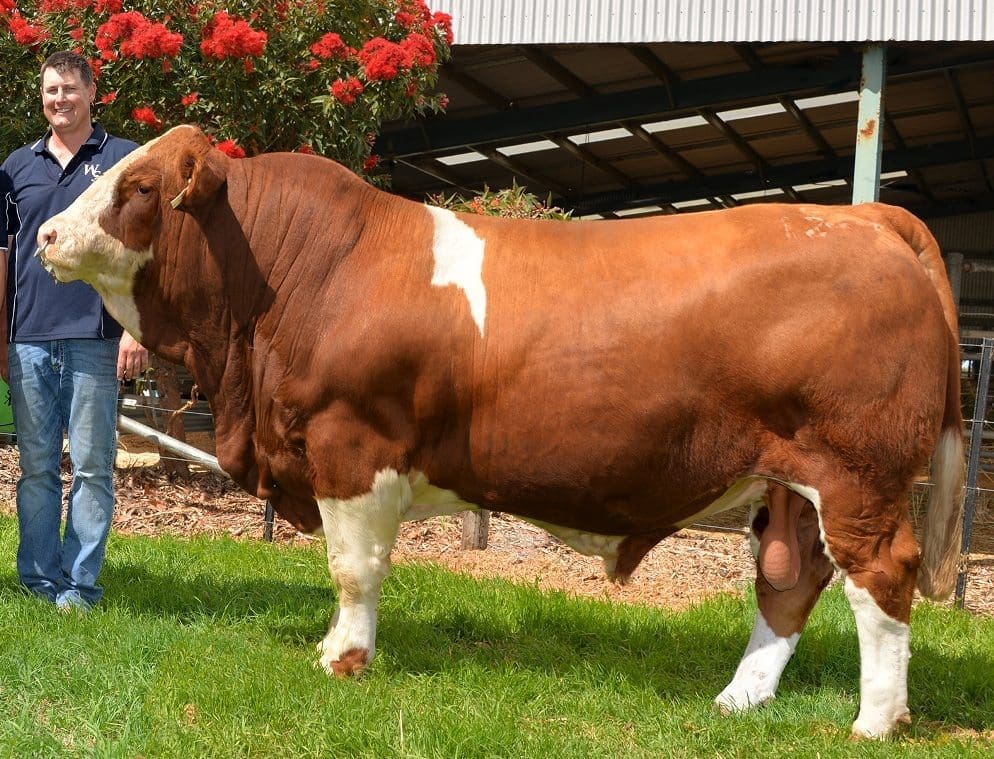 A Black Simmental record of $27,500 was set for Webb Tank K90 sold by Tom Baker's Woonallee stud near Millicent, SA to Kevin and Janice Hard, Naracoopa, Denmark WA at the Woonallee Bull sale in February 2016. The sale eclipsed a $24,000 sale record set just three days earlier at the 2016 Bonnydale bull sale for Bonnydale Augustus L84, bred by Mike and Rob Introvigne, Bonnydale Stud, Bridgetown, WA and bought by Wombramurra Black Simmental stud, Nundle, NSW.
Angus:
$150,000 for Millah Murah Tex K35 sold by Ross and Dimity Thompson, Millah Murrah Angus, Bathurst NSW to syndicate including John & Joan Woodruff, Witherswood Angus; Jim and Jackie Wedge, Ascot Angus; Gilmandyke Angus; and ABS Australia – Millah Murrah Bull Sale 2015, Bathurst NSW. (Millah Murrah retained 20pc semen share).
Hereford/Poll Hereford:
$120,000 for Inverary Dominator D56, sold by Don Anderson and family at the Inverary Collection Sale on-property in 1986. More recently, $110,000 was paid for Injemira Anzac K220, sold by Injemira Herefords, Book Book, NSW to Ravensdale Poll Herefords at Holbrook, NSW at the annual Injemira on-property sale, February 2016.
Brangus:
$110,000 for Telpara Hills Van Damme sold by the Pearce family, Telpara Hills Stud, Atherton QLD to Mal & Sue Burston, Broadlea Station, Moranbah QLD – Rockhampton Brangus Sale 2014.
Wagyu:
$105,000* for  two-year-old sire prospect Mayura L0010, offered by the de Bruin family's Mayura stud at Millicent SA, and bought by Ian and Cameron Hewitt, Hanging Rock Station, Charters Towers, QLD, at the Elite Wagyu Sale, Albury NSW in May 2017. The previous record sat at just $16,500 for unidentified Fullblood Wagyu bull sold by Takeda Wagyu, Barham, NSW to Kilcoolin Pastoral Co, Euroa – Takeda Stud Wagyu Sale Wodonga 1998. * It should be noted that Wagyu seedstock animals are only rarely sold by public auction in Australia.
Santa Gertrudis:
$90,000 for Yarrawonga El Salvador K306 (P) sold by Andrew and Fiona Bassingthwaighte, Yarrawonga Stud, Wallumbilla QLD to David and Suzanne Bassingthwaighte, Waco Stud (Muldoon), Mungallala QLD – Yarrawonga Sale 2015, Wallumbilla QLD.
Shorthorn:
$75,000 for Nero Y2K Zee Top, sold by Calrossy Anglican School, Tamworth NSW to Carlton Shorthorns, Hahndorf, SA –  National Shorthorn Sale 2006, Dubbo NSW.
Charolais:
$61,000 for Palgrove Valiant, sold by Prue and David Bondfield, Palgrove Stud, Dalveen QLD to C.Scriven, St George QLD – Palgrove Annual Bull Sale 2002.
Blonde d'Aquitaine
$50,000 for Rupari Joiner d'Poll, bred by Greg and Linden Roberts Rupari Polled Blondes, Yarrawonga, Vic, and bought by Bob Andrews, Wangaratta and genetics dealer Agri-Gene, via a silent Helmsman auction on Facebook in March 2015. The price is believed to be a world record for a Blonde d'Aquitaine bull.
Braford:
$45,000 for Carinya Murdock, sold by John & Jacquie Amor, Carinya Stud, Dulacca QLD to  the Chad families, Donrinda and Double C Studs, Dubbo, NSW – 2012 National Braford Sale, Gracemere.
Limousin:
$32,000 for Ashfield Hi-Fidelity, sold by John and Judy Fry, Ashfield Stud, Wangaratta VIC to Andrew Crawford, Kilbarnie Pastoral Co, Wellendbean NSW – Ashfield Bull Sale 1989, Wangaratta VIC.
Charbray:
$30,000 for  Huntington Jeremiah (P), sold by Welsh Cattle Co, Huntington Charbrays, Taroom QLD to Kerrod and Clare Lindley, Spring Villa Charbrays, Wowan QLD – Huntington Charbray sale 2015, Taroom QLD.
Speckle Park:
$30,000 for Wattle Park Project A, sold by Dale Humphries, Wattle Park, Oberon to Minnamurra Pastoral Co, Coolah – Wattle Park Bull Sale, October 2016.
Ultrablack:
$24,000 for Palgrove Kingpin (P), sold by Palgrove Stud, Dalveen QLD to Mick and Tanya Madden, Earlwood Stud, Duaringa  QLD – Palgrove Annual Bull Sale 2016.
Senepol:
$20,000 for Five Star Governor, sold by Geoff Maynard, Maynard Cattle Co, Jambin QLD to Ian and Donna Johnston, Lynfield Stud, Sexton QLD – Five Star Senepol Sale 2005, Gracemere QLD.
Belmont Red:
$17,500 for Nar 900101, sold by CSIRO Narayan Research Station to Ian & Di McCauley, Valinor, Biloela QLD and Estelle & Geoff Maynard, Maynard Cattle Co, Mt Eugine, Jambin QLD.
Adendum:
During our research, record prices for several beef breeds have proved elusive.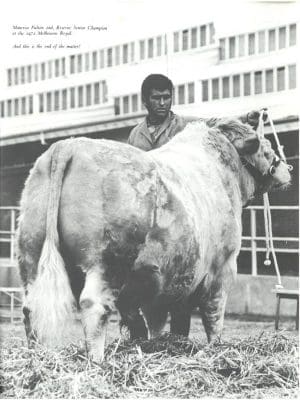 Murray Grey is a good example. Breed contacts have been unable to provide categoric evidence of auction records for Murray Grey bulls and females, however there is some evidence that a Murray Grey bull, Maneroo Fulton 2nd (pictured left, click on image to enlarge), sold during the breed's hey-day some time between 1974-76 for $110,000.
If it's true, it would have been an all-breeds record for that era. It is unclear whether that sale was a result of auction, or private negotiation. A Murray Grey registered female record of $57,000 has also been claimed for Kelvin Grove Daphne 26th, apparently around 1884. Again, there is no clear evidence to support this, nor whether it was an auction or private treaty sale, if it indeed occurred. We'd be interested to hear from readers who can provide clear evidence (credible newspaper clippings etc) of either sale. Email to admin@beefcentral.com
Registered female record prices at auction:
Wagyu:
$95,000 for a registered Fullblood Wagyu heifer in-utero (as yet un-named) offered by Laird and Sonia Morgan, Arubial Wagyu, Condamine Qld, and bought by Hendrick Markram's South African based Miku Wagyu, at the Elite Wagyu Sale, Albury NSW in May 2017. Mr Markram also paid an Australian breed record, and possible Australian/world all-breeds record price for semen of $28,000 a straw for ten straws from the deceased Macquarie Y408 offered by Macquarie Wagyu, Warwick QLD at the same sale. The previous registered female record of $26,000 was for a Takeda Farm Kikuhana daughter sold by Takeda Wagyu, Barham, NSW to Andrew Cabassi, Esperance, WA – Takeda Stud Wagyu Sale Wodonga 1998.
Shorthorn:
$72,000 for The Grove Legends Dale A755 sold by The Grove Shorthorns, Condamine QLD to Woolcott Shorthorns, Meandarra QLD – The Grove Shorthorns Sale 2006, Condamine QLD
Charolais:
$70,000 for Palgrove Maxine, 43(P), sold by Prue & David Bondfield's  Palgrove Stud, Dalveen QLD to Greg Clyde-Smith, Atherton QLD – Palgrove Female Sale 2008.
Brahman:
$60,000 for FBC D Lady Lyn Manso 608D, sold by Fenech Brahman Cattle Co, Dululu QLD to Paul and Donna Taylor, TMB Stud, Goomeri QLD – Wilangi Invitation Sale 2005, Charters Towers QLD
Simmental:
$48,000 for Tusmore Nicole, sold by Jim Mahoney, Tusmore, SA to John McQuay – Tusmore herd dispersal 1990, SA. Although it does not qualify based on this list's 'at auction' proviso, a record for Black Simmental females at $22,000 was set by WA breeder Mike Introvigne for the paddock sale of  Bonnydale Glendive K199 with calf at foot, bought by Valley Creek Simmentals, Bowral, NSW. Top priced registed female among Fleckvieh cattle was $10,600 paid for Tennysonvale Kellie (P) bred by Tennysonvale Simmentals & Fleckvieh's, and bought by Nobbs Cattle Co at Tennyson's sale in 2016.
Angus:
$45,000 for Vermont Dream, B227, sold by Vermont Angus, Penshurst, VIC to Keith Kerridge, Bannaby Angus, Taralga, NSW – Vermont Dispersal 2010, Penshurst VIC.
Droughtmaster:
$42,500 for Glenlands Kineesha, sold by B & V Childs, Glenlands, Bouldercombe QLD to David Torrisi, Vitwood Stud, Hervey Bay QLD – Glenlands Sale 2007, Gracemere QLD.
Brangus:
$41,000 for Telpara Hills Miss Foundation 468L7 sold by the Pearce family from Telpara Hills Stud, Atherton QLD to Mal and Sue Burston, Broadlea, Nebo, QLD – Rockhampton Brangus Sale October 2016.
Limousin:
$35,000 for Tanhill Grenadine, sold by AJ & JY Whistler, Tanhill, Milawa VIC to Billabong Limousin Stud, Wagga Wagga NSW – Tanhill Limousin Sale 1988, Wodonga VIC.
Santa Gertrudis:
$34,000 for King Ranch Jewell, sold by King Ranch, Macquarie Downs Leyburn QLD to John Bolster, The Lakes Stud, Woodenberg NSW – King Ranch Dispersal Sale 1990, Macquarie Downs QLD.
Senepol:
$16,000 for AACo SE2M13, sold by Australian Agricultural Co, QLD to Ian Manly, Antigua Stud, Lower Wonga QLD – AA Co Senepol herd dispersal 2006
Braford:
$6000 for Little Valley Miss Wren, 2808, sold by Bennett family, Little Valley Braford Stud to Dwyer family, Barykino Braford Stud – New Dimensions Sale 2015, Bell QLD.
While the list above is exclusive to beef breeds, worth noting was the Australian record for dairy breeds of $251,000 for an elite Holstein heifer sold in January 2017. The heifer, sold by Victorian Declan Patten and a US partner, was sold to a US artificial breeding business, Sexing Technologies. The heifer carried the highest Genomic Total Performance Index (GTPI) figure of any dairy animal ever sold in the world. See earlier story here.
To submit amendments or add new entries to this list as records are re-set, please contact Beef Central via email at admin@beefcentral.com or phone 0412 331745.